Building Trust Essay Contest
Sponsored by the American Medical Student Association & ABIM Foundation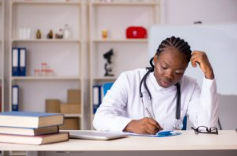 Medical students have lot to say about building trust with their schools, faculty, peers, patients, and communities. How can we discover what activities or projects medical students are engaged in that build trust?
The Building Trust Essay Contest asks medical students to engage in a reflective writing exercise about their experiences with trust. This year, students are asked to tell a story that illustrates an experience where they or someone they know received, shared, or acted upon misinformation in a health care setting. Authors are encouraged to touch upon personal experiences with misinformation – how they have seen its effects on health care; how they have seen it spread; how medical students, residents, and practicing physicians may be contributing to the problem; and how they have participated in mitigating misinformation. In addition, authors may want to consider sharing what actions can be taken to build trust as an antidote to misinformation.
Submission requirements
The Building Trust Essay Contest is open to medical students at accredited schools of medicine in the United States. Submissions must be an original, unpublished essay of 750 words or less. Essays must be written in English and only one submission per student will be accepted.
Prize & Publication
Up to four winners will each receive:
An invitation to the ABIM Foundation's annual Forum (July 21-24, 2023), which includes:

Travel to and from the conference
Three (3) nights lodging (Friday, Saturday, Sunday nights)
A stipend for meals and incidentals

Complimentary registration for AMSACon 2023 (June 15-17, 2023)
Publication/Promotion: Winning essays will be published in the July/August edition of The New Physician magazine. Winning essays and honorable mentions will be published on AMSA's website, the ABIM Foundation's website, BuildingTrust.org, shared on social media, and in newsletter(s).
Selection criteria
An independent panel of judges, to include a mix of medical students and faculty, will review and select up to four winning essays. Up to 10 honorable mentions will also be awarded. Essays will be judged on the following equally weighted criteria:
Content and connection to the topic of trust and misinformation
Quality of writing and clarity of thought
Novelty of the message
Opportunity for others to learn
How to submit
Submit your essay by March 13, 2023, 11:59 PM Pacific Time using this form.
Submit your essay.
(Deadline: March 13, 2023, 11:59 PM Pacific Time)

Questions, please contact info@abimfoundation.org
Learn about the American Medical Student Association at amsa.org
2022 Essay Contest
Judges
Andres Diaz, Editor of AMSA's The New Physician, MD/PhD student at the University of Arizona College of Medicine, Tucson
Marianne M. Green, MD, FACP, Vice Dean for Education, Raymond H. Curry MD Professor of Medical Education, and Professor of Medicine at Northwestern University, Feinberg School of Medicine
Shan Jin, AMSA Academy Chair, a third-year medical student at the NYIT College Of Osteopathic Medicine
Furman S. McDonald, MD, MPH, Senior Vice President for Academic and Medical Affairs at the American Board of Internal Medicine
David Reuben, MD, Director, Multicampus Program in Geriatrics Medicine and Gerontology and Chief, Division of Geriatrics at UCL
Michael Walls, DO, MPH, AMSA National President, graduate of Touro University California