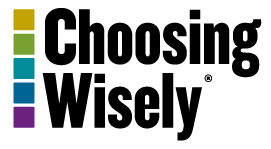 The Choosing Wisely® campaign is one of our most well-known initiatives. The goal of the campaign is to promote conversations between clinicians and patients by helping patients choose care that is:
Supported by evidence
Not duplicative of other tests or procedures already received
Free from harm
Truly necessary
It calls upon leading medical specialty societies and other organizations to identify tests or procedures commonly used in their field whose necessity should be questioned and discussed with patients.
The effort has garnered the participation of over 80 medical specialty societies who have published more than 600 recommendations of overused tests and treatments that clinicians and patients should discuss. The campaign and society recommendations have been included in nearly 300 journal articles and more than 10,000 media articles since the program launched in 2012.
Unnecessary Tests and Procedures in the Health Care System — What Physicians Say about the Problem, the Causes and the Solutions
In early 2014, the ABIM Foundation, with funding from the Robert Wood Johnson Foundation, commissioned a survey conducted by PerryUndem Research/Communication to explore physician attitudes regarding the overuse of medical services in the United States.
Learn more about the results in the summary research report. Full topline results and information on the methodology are also available.
73% of physicians say the frequency of unnecessary tests and procedures is a very or somewhat serious problem.
58% of physicians say they are in the best position to address the problem, with the government as a distant second (15 percent).
66% of physicians feel they have a great deal of responsibility to make sure their patients avoid unnecessary tests and procedures.
72% of physicians say the average medical doctor prescribes an unnecessary test or procedure at least once a week.
53% of physicians say that even if they know a medical test is unnecessary, they order it if a patient insists.
47% of physicians say their patients ask for an unnecessary test or procedure at least once a week.
70% of physicians say that after they speak with a patient about why a test or procedure is unnecessary, the patient often avoids it.